Dodbiba Dental Clinic
Dr. Marsela Dodbiba – Rr. Hoxha Tahsin, Tirane
Dr. Marsela Dodbiba of Dodbiba Dental Clinic
Her profession dates since 1997, when she first accomplished her studies in Albania.
Soon after she moved to Canada, where she continued her profession development following re-certification requirements and eventually working at various clinics first as a restorative dental hygienist and finally as a certified dentist.
Due to strong family ties in Albania, she and her young family decided to return to reunite with them as well as to pursue property restitution following the communist regime.
The first clinic was opened in 2006, out of their home.
Right from the start she started to work with expats living and working in Albania, Peace Corps Volunteers, cooperating with their dentists back in Washington, various embassies staff, various ambassadors over the years that have come and gone through Albania.
Her business was built on word of mouth and her patients are half local and half expats.
Having outgrown itself, the small clinic moved literally across the street on same 'Rruga Hoxha Tahsin', in 2015 where it's still today.
Dr. Dodbiba feels she owes her success to the professional experience in Canada, her yearly trainings and updates through Toronto University, and most of all her ability to communicate well with her patients, listening to their needs and doing her professional best for their wellbeing.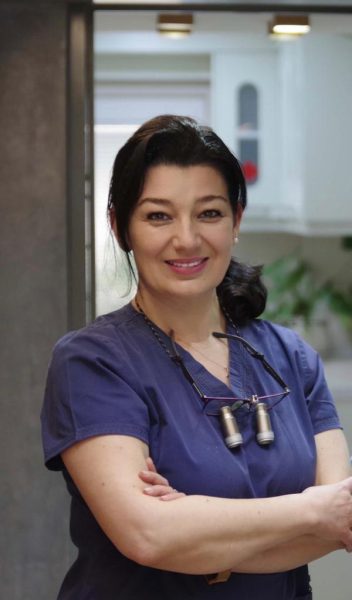 Reviews
Wonderful Experience
I want to say a big thank you to amazing Dodbiba Dental Clinic. Dr Marsela was very professional and knowledgeable, her wonderful staff very friendly and welcoming. Me and my husband are very pleased with the results. I highly recommend this Clinic. Juna Gjinaj Denver Colorado USA
Only to recommend!
For me as a Traveler it is always an important part to have a good dentist on the place iam living at the moment.
With Dr. Dodbiba iam happy to have someone found with great knowledge, understanding and respect for the patients! Really greatful to have her as my dentist.
Excellent care
Excellent work on some replaced fillings. Easy communication in English, and a clean and professional setting. I'd recommend them for anyone needing dental work in Tirana.
Truly exceptional professionalism and highest quality work.
We have been going to Marsela Dodbiba, at her clinic, as a family for 15 years. I cannot recommend her highly enough. My British dentists in Scotland testify to the superb quality of her work. She also cared beautifully for my daughters when they were young, helping them relax and receive the best treatment.
Attentive, caring, professional dental clinic in Tirana
So very glad I chose this clinic for the dentistry I needed done.
The entire staff was excellent. I highly recommend Dr. Dodbiba in particular. She is thorough, professional and communicated easily in English with me.
The standard was easily as good as anything I experienced in Canada over the years (but significantly more affordable)
Need Assistance?
We will help you plan your move to Albania in the best possible way, starting from your current situation, your goals, and the budget you have available.