THE EXPATS DENTIST
While slowly strolling down some village road, tired and happy from a long hiking day with friends, some 3 or 4 years ago, the topic of a dentist came up. This lady, Dr. Marsela Dodbiba came highly recommended by many expats. Apparently, she lived in Canada as part of her professional life, and since I did too, this got my attention.
I've been blessed with healthy teeth and my dentist back in Canada, always complimented me on them. I recall her inquiring about my upbringing, what country I was from, and the water we drank while growing up, etc… things we listen to but don't really take full notice of. I'm back in Albania now, drinking that same water, so a dentist from Canada feels reassuring and I decide to look into it.
Some time passed by before I eventually made my first appointment at Dodbiba Dental Clinic, not really having any emergency but simply for a general checkup and a cleaning. That's when I first met Dr. Marsela, at her clinic, fully busy but very attentive to me and my teeth throughout the appointment.
We managed to have a brief chat about Canada and our life there but our appointment remained very professional. She definitely gave me the feeling of being safe and taken care of and since then, I became her regular patient.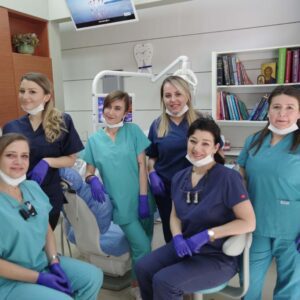 Dr. Marsela Dodbiba first opened her small and modest Dodbiba Dental Clinic in 2006, out of their home. The clinic shared the front yard with her family home.  Since then, she has serviced expats living and working in Albania, Peace Corps Volunteers, working closely with their dentists back in Washington, various embassy staff, various ambassadors over the years that have come and gone through Albania.
Her business was built on word of mouth and her patients are half local and half expats.
Having completed her initial studies in Albania, in 1997 she continued her profession initially studying full time to get re-certified in Canada and eventually working at various clinics first as a restorative dental hygienist and after as a certified dentist.
She recalls those years as some of the most intense times in her life as becoming a dentist in Canada involved extensive education and effort as well as financial and time commitment.
During those years she was also a young mother so her plate was completely full.  She and her young family returned from Canada, fulfilling her husband's wish to reunite with family and pursue property restitution following the communist regime.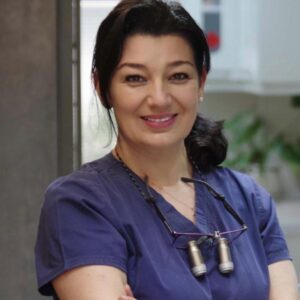 Dr. Dodbiba feels she owes the success of Dodbiba Dental Clinic to her professional experience in Canada, her yearly training and updates through Toronto University, and most of all her ability to communicate well with her patients, listening to their needs and concerns, and doing her professional best for their wellbeing.
Having outgrown itself, the small clinic moved literally across the street on the same Rruga Hoxha Tahsin, in 2015 where it's still today.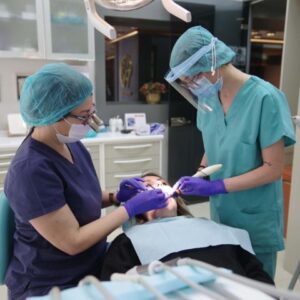 Fully dedicated to her patients and her clinic she does the best she can with product choices taking into consideration price and quality. She is fully accredited locally and operates 'the Canadian' way her small clinic and staff. Her services remain strictly medical and curative and only where needed aesthetics.
The prices are quite competitive with the local market and while considered very reasonable by the expats community they are also doable by the local Albanian community.
This is another feature this small clinic prides itself on, being fair to all its patients. Dr. Dodbiba continues to work and welcomes her patients with a warm and reassuring smile.