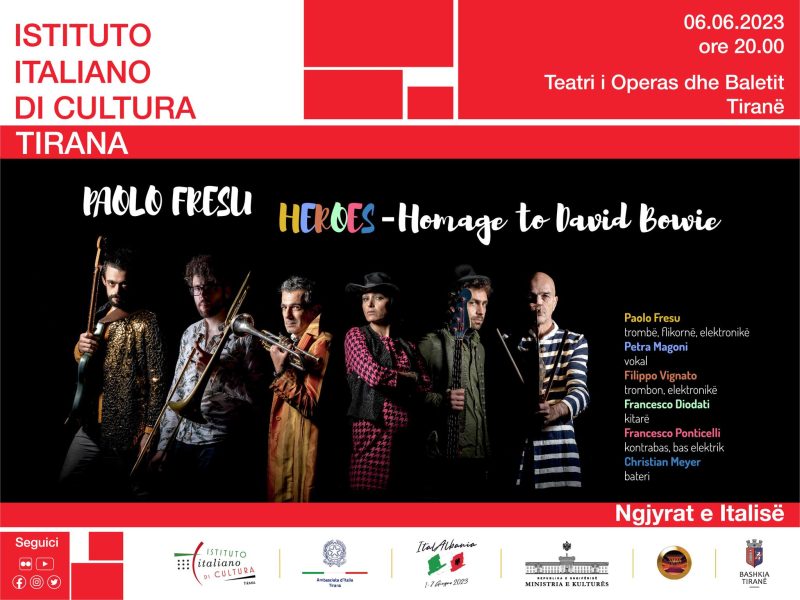 As part of the Week of Italy, the Italian Cultural Institute is pleased to present the master of Jazz Paolo Fresu in Tirana with the concert 𝑯𝑬𝑹𝑶𝑬𝑺 – 𝑶𝒎𝒂𝒈𝒈𝒊𝒐 𝒂 𝑫𝒂𝒗𝒊𝒅 𝑩𝒐𝒘𝒊𝒆!
06 June at 20:00
Tirana Opera de Ballet Theater Tickets can be purchased at the Opera Theater counter Paolo Fresu plays David Bowie. And this alone would be enough to "make news". He does so in the company of a stellar cast with Petra Magoni, Filippo Vignato (or Gianluca Petrella), Francesco Diodati, Francesco Ponticelli, and Christian Meyer. "As soon as this project was proposed to me (from the Tuscan municipality of Monsummano Terme where in 1969 Bowie made his first Italian public appearance as a complete stranger)", declares Paolo Fresu, "I felt honored and moved. I decided to put together a unique band, specially created, with great eclectic musicians from different backgrounds, even far from jazz. I think this is a great value. Approaching the music of David Bowie is a great emotion and also an extraordinary opportunity for all of us".
Fresu and associates got their hands on about thirty pieces, including Life on Mars, This Is Not America, Warszawa, When I Live My Dreams. Each member of the band has contributed to the arrangements, giving greater variety and dynamism to the project. Petra Magoni, as a vocalist, enjoys greater freedom, but the concert still focuses on teamwork. Going back to Fresu's words: "Bowie is an immortal author who has always been close to jazz. We will try to have the utmost respect for his art but also to be proactive, taking a fresh look at these songs".
https://www.facebook.com/events/s/paolo-fresu-heroes-omaggio-a-d/3557349864509064/?mibextid=Gg3lNB